Podiatry
No hoof no horse is the old saying. To that end Dr Maker enjoys working with local farriers to formulate an appropriate program for farrier care. Gait analysis and an understanding of the biomechanics of the foot is as essential as the team approach between farrier and veterinarian. We approach these cases individually and often with radiographic assessments.
What we look for in this process is:

Sole Depth - the amount of sole underneath the apex of the coffin bone.
Palmar Angle - the angle that the wings of the coffin bone make with the ground.
Digital Breakover - the horizontal distance from the apex of the coffin bone to where the foot or shoe stops touching the ground.
Horn/Lamellar Zone - the distance between the outside of the hoof wall and the coffin bone, measured in two places, just below the extensor process of the coffin bone, and at the Alec of the coffin bone.
Coronary Band-Extensor Process Distance – the vertical distance between the top of the coronary band and the top of the extensor process.
Bone Angle - the Angle the bottom of the coffin bone makes with its face, at the toe.
"The important thing to remember is that the inside health of the foot determines its outside health. We should shift our focus from trying to create the "perfect" cosmetic appearance to understanding what a healthy foot looks like on the inside and out, and strive for that. Our horses will thank us".
Farriers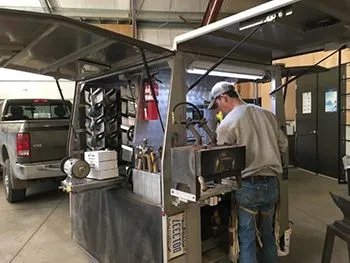 For your convenience we would like to share information on farriers serving the Roaring Fork Valley
Kenny Straton -970-201-0289
Chris Aldefer -951-265-7439
Nate Oetter - 970-560-6058
Tom Cristel -317-586-7834
Dan Spradlin – 970-618-4869
Rock E Ricks – 970-216-0469/255-3071
Molly Ring – 970-963-9458
Ryan Maxon – 989-621-3941
Randy Wedhorn – 970-379-7652
Kevin Farrell - 970-366-0542
Max Wiese - 480-322-0768