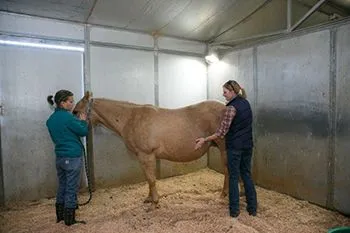 Your cutting or reigning mare performed exceptionally every time out last summer. You'd like to breed her to the top stallion in Oklahoma or Texas, but you still want her to perform this season. What do you do?
One option is use artificial insemination and embryo transfer. Artificial insemination is the process of using cooled fresh or frozen semen shipped in an Equitainer from the stallion the same day it is needed. Embryo transfer is the process of moving an embryo (the fertilized egg) from the donor mare to a surrogate mare. Embryo transfer allows the valuable performance mare to produce a foal and stay in competition. As well, some genetically superior mares are too young to carry a foal and some older mares have medical or lameness conditions that complicate carrying a foal to full term. Embryo Transfer (ET) allows breeders to get more foals from their best mares. Both services are provided at Alpine.
The donor mares are bred with the stallion of your choice either at your barn or our hospital. On the seventh or eighth day after ovulation the embryo is collected from the donor mare by flushing her uterus with four liters of solution. This fluid is then siphoned out of the uterus using a special filter and tubing mechanism and the embryo is isolated. The embryo is then either transferred to a recipient mare on the farm within the hour or transferred for shipment into special media prepared ahead of time in an Equitainer. Currently all of the embryos recovered at Alpine are sent to either Royal Vista or CSU in Fort Collins where they are transferred into the surrogate mares.
The pregnancy will be diagnosed using ultrasound and regular rechecks are performed. If the pregnancy is lost before 40 days, another attempt will be made to produce a new pregnancy at no cost to the mare owner.
In addition to continuing to breed many mares via artificial insemination we offer stallion collection and semen shipment for our clients. Our "phantom mare", or "breeding mount" is a safe design and can accommodate Quarter horse to Warm Blood Stallions. Semen evaluation involves determining sperm count, progressive motility (% live sperm), and concentration. These numbers are necessary if you are going to be shipping semen which along with embryo transfer, we can also provide. We also offer to store frozen semen in our semen tank.