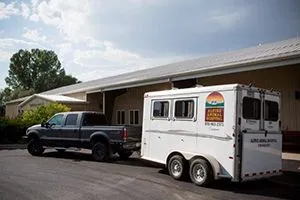 In order to provide better medical and surgical care to our patients in need, AAH offers a 3 horse stock trailer to transport horses in emergency need to our Hospital. Transport is also available for those needing scheduled hospitalization and treatment.
Our trailer is equipped with lights, electric brakes and has plenty of room to accommodate patients ranging large and small from emergency colics to routine ophthalmic and prepurchase and lameness exams.
Let the office receptionists know if you think your horse might benefit from being treated at the hospital rather than at your barn. An Equine doctor or technician will return the call and arrange a schedule.